Zucchini With Pesto.
1 zucchini
¾ tbsp coconut oil
1 clove of chopped garlic
1 tbsp sesame seeds
½ cup of crushed green olives
½ cup pesto
½ cup of sun dried tomatoes
¼ teaspoon salt
½ tsp salt free herb mix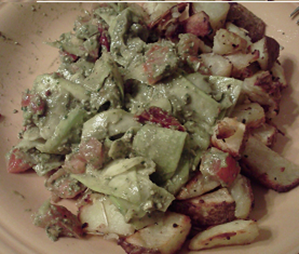 Use your slicer or your food processor to cut the zucchini into thin strips. Heat the coconut oil in a frying pan at medium heat. Add the garlic till lightly browned. Add the sesame seeds. Stir fry till sesame seeds are lightly browned. Remove from heat and add the ingredients to it. Serve by itself or mix with the potatoes with rosemary and garlic recipe above.
© Copyright – Hector Sectzer